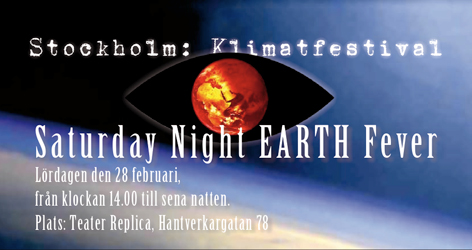 Klimataktion – The national movement for the climate.
In the present crucial times we're becoming more and more aware of the current environmental issues about global warming and it's effects on our planet and our lives. Many are convinced that if we don't act and change today, the outcome will be catastrophic. But it's not too late yet if we start making changes today! To raise the awareness in Stockholm, Klimataktion.se in co-operation with Opera Reflex are arranging a festival, Saturday Night EARTH Fever, at 2 PM on February 28'th at Teater Replica with artists, bands, politicians and celebrities forming a good blend between culture and weighty information.
Upright Sounds / Stefan Heino will be responsible for engineering the three stages and mixing the sound on the main stage. Stefan will be assisted by three students from the School of Audio Engineering in Stockholm, where Stefan also studied for the Audio Engineering Diploma 2005-2006. If you're concerned about our future and want to know more about how to be more effective in the ways you can help, please come to to this event and bring your friends!
Visit www.klimataktion.se for directions and program.
– Check out the photos from this event in Media.