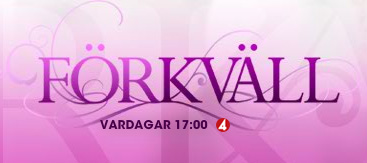 Today Stefan Heino started to work on the biggest assignment in his Audio Engineering career so far. The last few weeks Stefan has been responsible for the planning, setting up and installation of the sound part of the Förkväll TV-studio, which is being built in the newly refurbished Sky Bar on the top floor of Radisson SAS Hotel, looking over central Stockholm with it's tinted panorama windows.
Förkväll, a popular Swedish talkshow that previously aired 2006-2007 live from Stockholm's central station, has been brought back to life by TV4 and Titan Television. Stefan will be working as Assisting Audio Engineer with Karl-Johan "Ludde" Lundin, who worked on the previous season of the show and has a long list of credits including shows like "Expedition Robinson" and "Paradise Hotel". 158 episodes have been planned until the 10th of June 2010 and Förkväll might continue in the fall of 2010, but that is still uncertain. The program is airing every Monday-Friday 17:00-18:30 and every day has it's own theme:
Monday: Fashion and total make-over
Tuesday: Interior design and economy
Wednesday: Fitness and health
Thursday: Live speed-dating or animals/pets
Friday: Celebrities and Sing Star competition
Visit http://www.tv4.se/forkvall/ for episodes and more info about the show.